The JWHA newsletter is published quarterly. Members receive updates to access the latest articles before the next issue is available.
---
Jill Brim shares new details on the JWHA 2020 digital event. Please read her President's Message.
---
Meet two more members of the Board, Rachel Killebrew and Joe Geisner.
---
Are you creative?  Contest Deadline Approaching!
Do you find yourself with time on your hands?  Looking for a challenge to keep you engaged?  Maybe you are as busy as ever but want to participate.  JWHA has an offer for you . . .
JWHA's 50th Anniversary: A Legacy of Restoration History Logo Contest
January 1, 2022 JWHA will launch our 50th year of excellent, lively, restoration history scholarship celebration. To symbolize our celebration, we need a logo that captures our theme: A Legacy of Restoration History.
Be creative and submit your design in a .jpg format to jwha@jwha.info by August 1, 2020. The board will select a winning logo and award a $100 gift card. The winning design will be featured in 2022 on the website, newsletter and conference collateral.
---
JWHA 2020 Digital Event
Metamorphosis:  Scattered and Gathered Saints Emerge After Crises
September 19, 2020
Additional details available soon.
---
Board Adopts Covid-19 MOU
The Board adopted a Memorandum of Understanding to address annual business meeting voting.
---
2020 Board of Directors Nominees
Our Nominating Committee selected two nominees to serve on the board. Meet the candidates.
---
Proposed Bylaw Changes
The JWHA Board of Directors has approved recommended bylaw amendments.
---
Founding Member Bill Russell
JWHA's founding members are, indeed, getting older and more frail. Bill Russell has been admitted to the Lamoni Specialty Care, which offers long term care. A recent fall caused a broken wrist that required surgery. His propensity for falling has continued and the time has come when Lois can no longer help him get up from the floor or otherwise care for him.
Bill would love to receive cards and phone calls; though no texts, please.
Their home address is
121 S. Ferguson
Lamoni, IA  50140
Send emails to Lois's email address and she will pass them along:  loisrussell45@gmail.com
---
The JWHA 2020 Annual Conference, Restoration Outpost: Ragged Edge or Oasis? has been postponed and rescheduled for October 21 – 24, 2021 in St. George, Utah.
If you submitted a proposal or applied for a scholarship for the 2020 conference, you will receive an email from the program committee with further information.
Thank you to everyone who donated to GivingTuesday. Those scholarship monies will be awarded for the 2021 conference.
---
Good News: Restoration Studies Deadline Extended
Due to Covid-19 we have been able to extend the deadline for Restoration Studies article submission.  Restoration Studies publishes articles related to Latter Day Saints group's religious, and cultural studies, as well as theology. Submit your completed articles to Restoration Studies editor Katherine Hill (kggardner@centurylink.net) by May 31st for consideration.
---
JWHA Spring/Summer Journal
The Spring-Summer issue of the John Whitmer Historical Association Journal will be a big one with a strong focus on the "Burned-Over District" theme of last fall's meeting in Rochester.  Several authors from the varsity team are matched with equally talented newcomers. Table of Contents
---
50th Anniversary Theme Contest Winner
---
JWHA Awards —  Book Nominations Deadline Today, April 30 — Call for Nominations
---
New Research Resource. In partnership with the Community of Christ, the Church History Library of The Church of Jesus Christ of Latter-day Saints has recently digitized and publicly shared multiple Community of Christ collections including The Herald (1860-1994) and related indexes. Read the Church History Library blog article to learn more about this valuable research resource.
---
In Memoriam – Dale Edward Luffman
---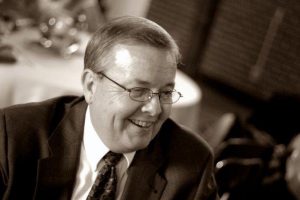 Grant McMurray, an original JWHA founder is going through rehabilitative therapy. The McMurray family is filled with gratitude for the many prayerful expressions of support for Grant and their family as he faced an unexpected emergency surgery. Although the surgery was successful he still has a huge mountain to climb to get back home. Since the family is prohibited from visiting him in the hospital you can imagine what an emotionally challenging time it has been for them as Grant begins 3 weeks of rehabilitative therapy alone while also dealing with the impact of rapidly accelerating Parkinson's complications.
Please help us let Grant know he is not alone the next few weeks as he faces therapy. Let's boost his spirits by flooding him with words of support and encouragement.
We invite you to use whatever you already have available at home a scrap of paper, napkin, torn paper bag (keep the toilet paper-you made need it!) to send him some words of humor, memories, comfort and encouragement as he continues his journey of healing that will bring him home to his family.
Send your encouragement to:
W. Grant McMurray – Rm. #468
Centerpoint Medical Center
19600 E. 39th Street
Independence, MO 64057
---