JWHA offers sponsorship opportunities to further the JWHA mission.
Annual Conference
A partnership with John Whitmer Historical Association helps support the annual conference. Sponsorship comes with personalized recognition of your involvement, or you can opt to remain anonymous.
By offering sponsorships, JWHA is able to offer discounted member registration fees, support scholars, and enhance the quality of the conference. Every annual conference offers unique opportunities to share restoration history. 
Three Great Ways to Sponsor:
Sponsor a specific element(s) of a conference.
Apply your sponsorship to the conference budget without choosing a specific element.
Apply your sponsorship to the JWHA Endowment for the long-term financial health of the association ($25 minimum requirement).
Award Sponsor
Annual book and article awards are presented at the annual conference Awards Banquet.  Awards sponsors receive personal recognition in the award name.  Learn more about the awards criteria and categories available to sponsor.
Return on Investment
The following return on your investment is awarded to each sponsor.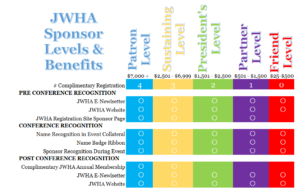 Don't see anything you're interested in? There is an option for you, we can help create something specific to get the most return for your investment.  Contact jwha@jwha.info for additional sponsorship information.