JWHA offers the valuable opportunity to advertise services or goods in the JWHA Journal, online newsletter and annual conference program.
With direct distribution to more than 300 individuals and companies, plus the large number of nonmember website visitors JWHA sees every day, advertisers get their message to a large audience interested in Community of Christ history, early Mormon history, and/or the history of the many denominations that comprise the Latter Day Saint movement.
---
Publication
Publication
Schedule
Advertisement
Deadline
Size
Requirements
Rate

---

Journal
Spring
Fall
February 15, 2024
July 19, 2024
9.5 x 6.5 inches
9.5 x 6.5 inches
$200.00
$200.00

---

Online Newsletter
Posted to jwha.info, published to the online archive and distributed via email to members.
1st Quarter
2nd Quarter
3rd Quarter
4th Quarter
February 1, 2024
April 3, 2024
July 3, 2024
October 3, 2024
250×250 pixels*
250×250 pixels*
250×250 pixels*
250×250 pixels*
$150.00 – 1 issue
$270.00 – 2 issues
$382.50 – 3 issues
$480.00 – 4 issues

---

Annual Conference Program
September
August 15, 2024
7.0 x 10.0 inches
7.0 x 10.0 inches
Color Back Cover
$250.00
NA
---
Advertising Terms & Conditions
Advertising space will be reserved on a first-come, first-serve basis. Print ad positions are not guaranteed.
Cancellations or changes will not be accepted after the advertisement deadline. Prior to the advertisement deadline, cancellations must be submitted in writing to: jwha@jwha.info.
The advertiser (or its agency) is responsible for providing the publisher all ad materials in the proper format by the advertisement deadline. Artwork that requires modification will incur additional charges to the advertiser. Advertisers and advertising agencies assume liability for all content of advertisements and will assume responsibility for any claims made against the publisher.
The publisher reserves the right to reject any advertising which does not keep with JWHA publication standards.
Rates are subject to change at any time prior to receipt of an insertion order.
---
*Technical requirements for advertisement artwork to appear in the on-line JWHA newsletter
Advertisers will receive an advertising space of 250×250 pixels to accommodate a color graphic in .jpg or .png format with a total file size of no more than 100 kb.
The advertisement will be placed in the right column of the online newsletter (see below).
Each ad may have one link to a webpage outside the JWHA website. When clicked, this link will open in a new browser window. It is the responsibility of advertisers to provide and maintain an active, functioning link. Links which are broken, invoke pop-up windows, result in error, link to inappropriate material, or otherwise reflect poorly on the JWHA website will be disabled.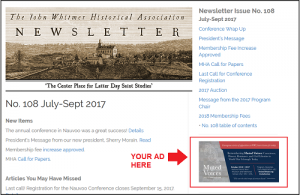 ---