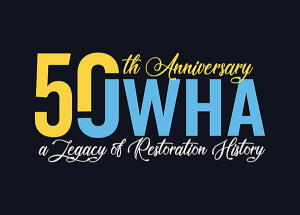 The JWHA board has planned a Golden Jubilee Celebration of all things JWHA including a lineup of speakers and sessions certain to recall and expand interest in Restoration history.
Please note: the agenda presented here is a draft and subject to change.
Items marked with (RS) indicate the presentation is part of the Restoration Studies track.
Click on the Session Numbers for Abstract & Bio.
Time
 
Session
Presenter(s)
Location

Saturday, September 17, 2022

7:30 a.m.-1:00 p.m.
 
50 Years: A Snapshot
 
Theatre 2
7:30-9:15 a.m.
 
Light Breakfast – included in registration fee
 
 
8:00 a.m.
Chair: Taunalyn Ford
Keynote 301
Joseph Smith's Presidential Campaign and the Quest for Religious Freedom
Spencer W. McBride
Sanctuary
9:00 a.m.
 
Break
 
Main Foyer/2nd Level
9:30 a.m.
Chair: Matthew J. Frizzell
Breakout 311
'Passing White' before the Lord: African Americans and temple endowments before 1978
Melvin C. Johnson
Lecture Hall
Foragers to Farmers: Shoshone Converts Who Helped Build the Logan Temple
Devan Jensen
9:30 a.m.
Chair: Jessie Embry
Breakout 312
Comparative Perspectives on the Lord's Supper: Delivering the Sacrament Prayers and Kneeling
David W. Grua
Continents Room
'Receive a Blessing': The Global History of Women and Medicine in the Early Latter-Day Saint Movement
Robyn Shahan Spears
9:30 a.m.
Chair: Jeff Thompson
Breakout 313
Turning Type into Pi: The Destruction of the Nauvoo Expositor in Historical Context
Craig L. Foster
Theatre 1
"Another Smith Killed Near Carthage, Illinois? The 1880 Murder of Alvin Salisbury"
Kyle R. Walker
9:30 a.m.
Chair: Alonzo L. Gaskill
Breakout 314
Laying the Foundation of Zion: Joseph Smith's 1831 Mission to Western Missouri
Alex Baugh
Peacemakers Room
Doctrine and Covenants 135 and the John Taylor Authorship Tradition
Michael J. Burnham
10:45 a.m.
 
Break
 
Main Foyer/2nd Level
11:15 a.m.
Chair: Matthew L. Harris
Plenary 302
Hidden Things Shall Come to Light: The Visual Image of Joseph Smith Jr.
Lachlan Mackay
Ronald E. Romig
Sanctuary
12:15 p.m.
 
Break
 
 
12:30-5:00 p.m.
 
John Whitmer Historical Sites Tour
Pre-registration Required
Box lunch included in registration fee.
 
Off Site
2:00-3:00 p.m.
Archive Sharing 315
Sharing Objects, Sharing Stories
Pre-registration Required
Apostle Lachlan Mackay, Barbara Walden, Executive Director CCHSF & Community of Christ Historian
Library
3:00 p.m.
 
Break
 
 
3:30-4:30 p.m.
Archive Sharing 316
Sharing Objects, Sharing Stories
Pre-registration Required
Apostle Lachlan Mackay, Barbara Walden, Executive Director CCHSF & Community of Christ Historian
Library
6:30 p.m.
Keynote 331
Presidential Banquet and Address
Formal Evening, Black Tie Optional
Mr. Smith Goes to Salt Lake City: Fred M. in Utah 1904-1906
Christin Mackay
Uptown Market