The JWHA newsletter is published quarterly. Members receive updates to access the latest articles before the next issue is available.
---
President's Message
"Someone on the Move" – A thoughtful message from Jill Brim
---
2021 Virtual Conference
Learn more about this October's conference
---
JWHA 50th Anniversary
A Legacy of Restoration History, September 15 – 18, 2022, Submit your Call for Papers
---
A New Way to Shop Online for John Whitmer Books
Our superb webmaster, Terry Erisman, has set up an online catalog for John Whitmer Books titles. Each listing in the catalog is accompanied by a clickable Amazon affiliate link. If you follow one of these affiliate links to Amazon and purchase the book, John Whitmer will earn an extra 4.5% commission on the sale (and on anything else you purchase during that Amazon session). Just one more way to support your favorite history organization.
---
2021 Slate
The nominations committee makes the following recommendations.
---
Congratulations, Scott
JWHA Board Member, Scott Esplin, named new dean of Religious Education
---
Spring/Summer Journal
The JWHA Spring/Summer Journal is in process. See what's in store for your summer read.
---
2023 Membership Fees
A proposed membership fee increase will be put to vote during the October Business Meeting.
---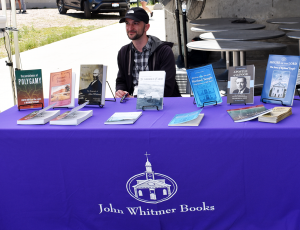 John Whitmer Books at MHA
Thanks so much to all who dropped by the John Whitmer Books table at MHA! Thanks to your support, we sold lots of copies of our newest title, Joseph and Lucy Smith's Tunbridge Farm by Mark Staker and Don Enders. The conference was a smashing success, and it was a joy to see all your smiling, vaccinated faces again!  (Photo courtesy of Steve Mayfield)
---
Earlier Articles You May Have Missed
Virtual JWHA Annual Conference
Friday, October 22 and Saturday, October 23, 2021
With the Covid-19 pandemic continuing to prohibit large indoor gatherings, the JWHA Board has decided to conduct a 2021 virtual conference.
We appreciate the members who responded to the survey, giving the Board a basis for discussion. The Board was concerned that many members would be uncomfortable traveling at this time.
Members voted that if a digital event were to be held, they would prefer a two-day conference.
We look forward to the efforts of the Program Committee as they arrange for the scholarly presentations. The platform will allow for our annual Business Meeting.
More details to come!
---
---
Membership Committee Call for Volunteers
If you're interested in serving on JWHA's Membership Committee, please contact jwha@jwha.info. The committee supports JWHA's annual membership drive, and fosters engagement among current members. We meet twice a year. Terms are for 3 years. Time commitment is approximately 4 hours a year, including completing assignments in-between meetings.
---
If you have any comments, suggestions, or questions, please contact us at jwha@jwha.info.  We always appreciate your input.