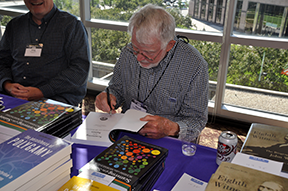 JWHA at the 2018 Mormon History Association Conference, Boise, Idaho
"Homelands & Bordered Lands," this year's MHA Conference theme, attempted to explain how intersections of culture, religion, and gender played out not only in the 19th century Mountain West, but indeed globally.  Members of JWHA participated in panels and presentations, bringing unique perspectives and research to the concept of intersection.  Congratulations to JWHA members Bill Russell, Craig Foster, Newell Bringhurst, and LaJean Carruth for their scholarly contributions.
JW Books sponsored an exhibitor's table at the MHA Conference, featuring important titles in Restoration history.  Many thanks to our authors Jean Addams, Newell Bringhurst, and Craig Foster for signing books for conference attendees.   Friends of JWHA stopped by, inquiring about our upcoming conference in the Independence area.  Kyle Walker, Greg Brim, and Jill Brim thoroughly enjoyed sitting at the JWHA table, talking about our conference theme and scheduled events, inviting historians and history buffs to come join us this September.  As we asked attendees what part of Restoration history they enjoyed studying, we found that we could recommend research from John Whitmer Books, as well as suggestions of JWHA members who could provide possible research insight.   We appreciated the enriching conversations with friends and new acquaintances at MHA.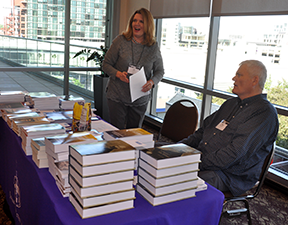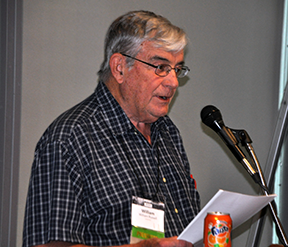 (Photos courtesy of Steven L. Mayfield)