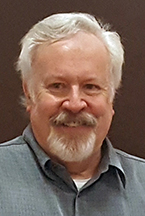 At its September 2016 meeting, the board of directors of the John Whitmer Historical Association appointed Reed Russell to serve as manager of John Whitmer books. Reed comes to this position well qualified and brings enthusiasm for the role.
Reed grew up in Saratoga, California. He attended San Jose State and BYU and graduated with a BFA in illustration. This took him to Hallmark Cards in Kansas City where he worked as an artist for 25 years. Reed has edited the JWHA Newsletter since 2011.  He is excited to be involved with John Whitmer Books.
John Whitmer Books is pleased to offer a catalog containing twenty titles covering a wide range of topics related to the Restoration tradition. To obtain more information and to contact the manager, please email jwbooks@jwha.info.