JWHA has a triennial spring banquet in the Independence, Mo. area in conjunction with Community of Christ World Conference.
The 2013 JWHA Spring Banquet was held Friday, April 12.
6:00 p.m.-8:30 p.m.
Ophelia's Restaurant
201 N. Main
Independence, MO 64050
www.opheliasind.com
Agenda:
5:30 p.m. Registration
6:00 p.m. Business Meeting & Networking
6:30 p.m. Dinner
7:30 p.m. Speaker
Registration Fee:
$35 per person includes dinner and speaker
---
Douglas A. Foster
Spring Banquet Speaker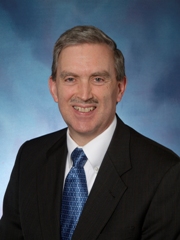 Douglas Foster is professor of church history in the Graduate School of Theology and director of the Center for Restoration Studies at Abilene Christian University in Abilene, Texas.
Foster's scholarly work has centered on understanding the place of the Stone-Campbell Restoration Movement in the larger context of American Christianity, and understanding the idea of Christian unity that was integral to formation of the Movement.
He serves as a general editor of a global history of the Stone-Campbell Movement to be published in March 2013. He is also completing a biography of Alexander Campbell for the Eerdmans religious biography series. He is a member of the Stone-Campbell Dialogue and serves on the boards of Stone-Campbell International and the World Convention of Churches of Christ. He has also served on the Faith and Order Commission of the National Council of Churches since 1989.
Married in 1979 to the former Linda Grissom, Doug and Linda have two children, Mary Elizabeth Riedel (30) and Mark (25).
---
Community of Christ and Churches of Christ:
Extraordinary Distinctions, Extraordinary Parallels
The nineteenth-century Latter Day Saints and Stone-Campbell restoration movements that produced Community of Christ and Churches of Christ respectively share much, both in their beginnings and development.
Each group differentiated itself from the larger segment of the parent movement based on theological and cultural matters. In recent decades, the two bodies have shared some extraordinary parallels, though still largely ignorant of one another.
In this lecture, Stone-Campbell historian Douglas Foster analyzes some of the historical theological distinctions and parallels between the two bodies, including their understandings of "restoration" and their self-concept as part of the whole church in ways that strengthen the mission of God in the world.