September 22
Preserving This Historical Event
As the American West recedes in our national memory, so do the exploits, hardships, and triumphs of our personal ancestors. The importance of Zodiac Cemetery to the Restoration's collective and individual past are highlighted once again by the letters of Heman C. Smith and the memorial by Barbara Walden. They remind us always that we are 'spiritual heirs' of those resting in Zodiac's City of Dead, and as Barb reminded us that "The spirit of the Restoration is not locked in one moment of time, but is instead the call to every generation to witness to essential truths in its own language and form. Let the Spirit breathe."
View the memorial program including a partial list of those buried there.
Oh, my. Words cannot capture the feelings of my spirit and stop the falling of my tears. You all did it just as I would have done. Thank you all so much for making this happen.
Melvin Clarno Johnson
---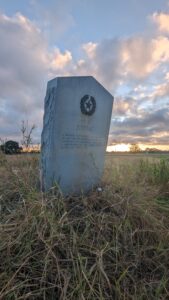 JWHA conference attendees gathered shortly before sunrise to remember those laid to rest at the Zodiac Cemetery. Zodiac was established by Lyman Wight and his followers on a bend in the Pedernales River near Fredericksburg, Texas, in 1847. Members of the Zodiac community had migrated to Texas from the pineries of Wisconsin after the martyrdom of Joseph Smith, Jr., to create a gathering place for the Latter Day Saints. Having established short-lived, mill-centered communities in the Austin area, this hearty group of coreligionists built homes, a mill, and even a temple at Zodiac. They helped construct Fort Martin Scott, served in local government, provided milling and agricultural services to their neighbors–predominantly German immigrants–and sought to ease tensions with the indigenous tribes on whose lands they were settling. In 1851, flooding destroyed the mill and precipitated yet another move. Records suggest that one to two dozen were buried at the Zodiac Cemetery, including Lyman Wight, who died in 1858 as this early chapter of Restoration history in Texas came to a close. Katherine Peake read the names and death dates of those known to have been buried at the site and invited a moment of silence. As Barbara Walden shared the reminiscences of RLDS leader and historian Heman C. Smith who was born at Zodiac in 1850, the sun pierced the eastern horizon. Barbara concluded with the inspiring words of Community of Christ Doctrine & Covenants 162: "The spirit of the Restoration is not locked in one moment of time but is instead the call to every generation to witness to essential truths in its own language and form. Let the Spirit breathe."
Thank you to landowner and friend Elmer Schmidtzinsky for sharing his documents, time and knowledge, making the service possible.