Message from President Casey Paul Griffiths
The new year before us has just as much potential for remarkable research and discovery as the one just ending. As we prepare for another remarkable conference, this time in the hill country of Texas, I hope each of us approaches the future with optimism. I also hope we keep in mind those young scholars we can mentor and guide into making the discoveries that will shape the perspectives of tomorrow. We all know that even if history is the study of the past, it has always been about how we can make the future better.
---
Career Opportunity
The John Whitmer Historical Association (JWHA) is seeking to contract an editor for our journal, published bi-annually, focusing on Restoration History and Theology. This is a stipend compensated position, working on the cutting edge of its field. JWHA has a long tradition of publishing groundbreaking studies on Restoration history, including the first detailed analysis of a probably photographic image of Joseph Smith, Jr., featured in our journal just this past summer.  Read full details of the position.
---

Logo created by Anneke Garcia of Salt Lake City
---
JWHA's 50th Anniversary: A Legacy of Restoration History
We just completed our historic conference in Independence celebrating the 50th anniversary of the John Whitmer Historical Association. What a joy it was to have nearly all of our living founders present with us, as well as many of the past JWHA presidents!
◆ Watch the tribute to their service and the journey ahead.
◆ Hear from the founders' on the importance of JWHA in the 50th Anniversary founders video.
---
Hidden Things Shall Come to Light
"Smith family members and historians have long believed that a daguerreotype, or photograph, of Joseph Smith, Jr., was made before his June 27, 1844, assassination. That daguerreotype has now been found. Learn more in the JWHA Journal spring/summer 2022 issue."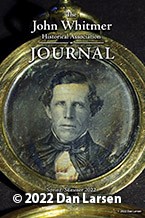 Purchase the JWHA Journal Vol. 42 No. 1 in PDF format ($15).
Purchase the JWHA Journal Vol. 42 No. 1 paperback on Amazon ($25)
Included is "Hidden Things Shall Come to Light: The Visual Image of Joseph Smith Jr." Ron Romig and Lachlan Mackay present convincing evidence that a recently opened watch locket that was passed down through the Smith family contains a true daguerreotype image of Joseph Smith Jr.
The spring/summer 2022 volume of the John Whitmer Historical Association Journal contains original research and contributions by Jill T. Brim, Ronald Romig, Lachlan Mackay, Brooke R. LeFevre, Ryan N. Cramer, Newell K. Bringhurst, Michael S. Riggs, Kyle R. Walker, Paul DeBarthe, Mark L. Staker, and Donald L. Enders.
---
John Whitmer Books New Release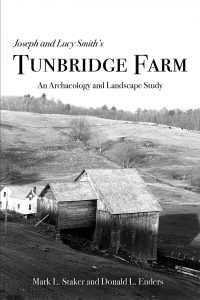 Joseph and Lucy Smith's Tunbridge Farm by Mark L. Staker and Donald L. Enders
Watch author Mark Stakers' introduction video.
Qualified wholesalers: place your order online.
---
Interested in Supporting JWHA?
With faithful financial contributions over the years, JWHA has been able to further the independent scholarly interest in the history of Community of Christ and the Restoration Movement. Our supporters play a key role in our success.
Here are some ways to support the JWHA mission:
Sponsor a scholarship or award
Share your legacy! When you set up your estate and financial plan, ask your advisor to include John Whitmer Historical Association as one of your beneficiaries.
JWHA is continually inspired by the dedication and generosity of our donors like you who support our mission.
---
Explore JWHA!
​
JWHA is an independent, scholarly society composed of individuals of various religious faiths who share a lively interest in the history of the Restoration Movement.