JWHA is proud to announce Whitmer Cast, a new podcast created by JWHA members.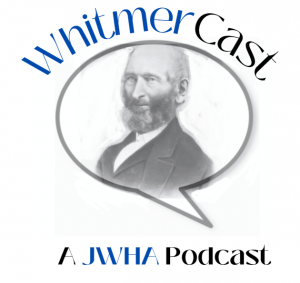 In reflection of our annual conference, Whitmer Cast will bring you a cornucopia of podcast hosts, essays, and historians to share the joy of restoration history with a broader audience. As the first historian of the early restoration movement, John Whitmer chronicled the beginnings of Joseph Smith's Church of Christ (Church of the Latter Day Saints, Church of Jesus Christ of Latter-day Saints) from its inception. Whitmer Cast, produced by the John Whitmer Historical Association, is proud to continue John Whitmer's legacy in highlighting the fascinating field of Mormon restoration and Community of Christ studies.
Podcasts will be released on a semi-regular basis, so stay tuned to our social media posts and website for new releases! We hope you enjoy the content.
---
Episodes
Episode 5: Divergent Paths of the Restoration, 5th Edition with Steven L. Shields
Jason R. Smith interviews Steven L. Shields about his latest book Divergent Paths of the Restoration: An Encyclopedia of the Smith-Rigdon Movement, 5th Edition (2021, Signature Books). Jason asks Steve about his experience writing the Divergent Paths of the Restoration encyclopedias over the last 40 years and making friends with people in different expressions of the Restoration. With around 500 entries in the 5th edition, Jason asks important questions to Steve about the methods he used to accomplish such a large, diverse project as well as the challenges. Steve's encyclopedia points to the rich diversity of denominations, movements, and people that trace their spiritual heritage to Joseph Smith Jr. You can find Steven L. Shields' book here.
---
Episode 4: Wingfield Watson and His Struggle to Preserve the Strangites After the Death of James J. Strang with Kyle Beshears
Katherine Pollock interviews Kyle Beshears about his doctoral dissertation "Wingfield Watson and His Struggle to Preserve the Church of Jesus Christ of Latter Day Saints (Strangite) After the Death of Its Founder". James J. Strang was one of several leaders who claimed succession to Joseph Smith after Smith's death in 1844 and gathered converts in Voree, Wisconsin and on Beaver Island. After Strang was assassinated in 1856, the Stangite community started to fall apart. Beshears's research details the life and work of the Stangite leader Wingfield Watson who preserved James J. Strang's teachings and Strangite documents for the remnant Strangite community. You can find Kyle Beshears's dissertation here
---
Episode 3: Lyman Wight, Indomitable Military Chieftain with Melvin Johnson
Jill Brim interviews Melvin C. Johnson detailing Lyman Wight's fierce commitment to protecting the early frontier saints as he served in the Adam-ondi-Ahman stake presidency and as an apostle. Wight's unique calling to the Wisconsin pineries would lead to his letter to Joseph Smith, proposing that representatives be sent to Texas, scouting possible areas for church relocation. Lyman Wight later took a group from the pineries to the Texas Hill Country where he constructed the first temple west of the Mississippi River in Zodiac, Texas. You can find Melvin C. Johnson's book here.
---
Episode 2: The Life of Joseph F. Merrill with Casey Paul Griffiths
Katherine Pollock interviews Casey Paul Griffiths regarding his new book Truth Seeker: The Life of Joseph F. Merrill, Scientist, Educator, Apostle. Joseph F. Merrill (1868 – 1952) lived during the transitional period of the Church of Jesus Christ of Latter-day Saints into the American mainstream. Griffiths discusses Merrill's early life in a polygamous family, his contributions to the University of Utah as an administrator, his time as Church Commissioner of Education helping to grow the seminary and institute programs, and his time as an Apostle. You can find Casey Paul Griffith's newest book here.
---
Episode 1: Smith's Tunbridge Farm with Mark Staker
Colby Townsend interviews Mark Staker regarding his new book, Joseph and Lucy Smith's Tunbridge Farm published by John Whitmer Books. Staker discusses his process of archaeological discovery around the farm, what he gleaned in surveying this priceless plot of land. Artifacts uncovered inform much about the day-to-day life of the early Smith family and the surrounding area. You can find Mark Staker's newest book here.
---
Episode 0: An introduction to the Whitmer Cast
What you can expect every episode, who we are. A brief History of the John Whitmer Historical Association.
---
As always, we are an organization that relies on one another for our success. If you have an idea for new content or want to volunteer to be a podcast host or editor, please contact the podcast team at whitmercast@jwha.info. We welcome the opportunity to work with you to share new material with our fellow members.