The 2023 Annual Conference of the John Whitmer Historical Association (JWHA) was held at the Hangar Hotel and Convention Center, where Fredericksburg's aviation and rich military past are recreated in a WWII military hangar.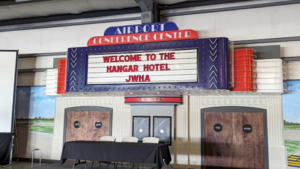 This year's conference theme, "Restoration Trails from Texas Dust," focused on Lyman Wight and his followers. A highlight of the conference was a sunrise memorial service at the site of the Zodiac Cemetery, where numerous members of Lyman Wight's colony were buried, including Wight himself. Elmer Schmidtzinsky, whose family has owned the property since 1891 and whose great-grandfather served with Lyman Wight on the county commission, allowed us to drive across his property to a marker memorializing Zodiac and its citizens. Katherine Peake read the names of those buried at Zodiac, and Barbara Walden shared a beautiful tribute and invited a moment of silence as the sun rose in the east.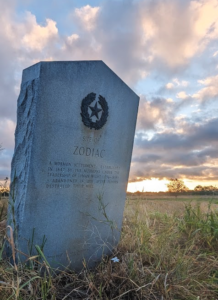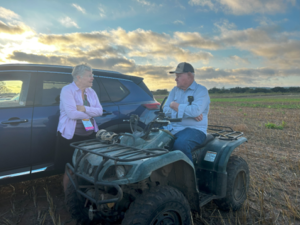 Though only in Texas from 1845 to 1858, Wight and his followers left a lasting impact on the history of the Texas Hill Country. From water wheels and mill stones to beautifully crafted furniture, the material culture of Texas Mormonism can still be found in fields, parks, and museums across Burnet, Gillespie, Kerr, and Bandera Counties.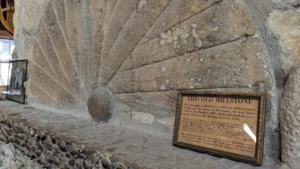 The Richard P. Howard Lecture was delivered by Dr. Matthew Grow, who examined Joseph Smith's interest in the Republic of Texas as a place of settlement outside the confines of the United States and how that interest catalyzed the formation of the Council of Fifty. Dr. Thomas Murphy's plenary address delved into the potential influence of the Iroquois "Peacemaker Epic" on Joseph Smith's worldview and implications for how Restoration communities might read the Book of Mormon. And President Casey Griffith took us on a whirlwind journey of SAINTS IN SPACE! His presentation examined the role of members of Restoration movements who have participated in the United States space program and invited us to consider the "new frontiers" of our historical exploration.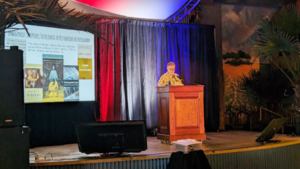 Among dozens of presentations covering diverse and fascinating topics, we were especially blessed to hear from founding member Bill Russell, who titled his remarks: "From Clueless Kid to a Theology of Love and Justice." Awards were given in various categories, and we bid farewell to the outgoing editor of the John Whitmer Historical Association Journal, Bill Morain, who was recognized for his inestimable service to the organization. We also honored former prophet-president of Community of Christ, Wallace B. Smith, who passed away on September 22 in Lees Summit, Missouri.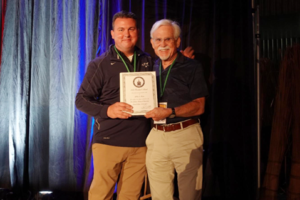 To conclude the conference, past JWHA President and former member of the Mormon Tabernacle Choir, Brian Hales, led attendees in singing historic hymns of the Restoration, including a selection from Lyman Wight's 1847 hymnal.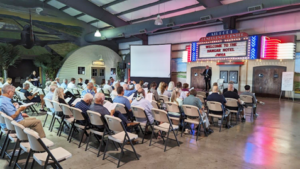 The conference was a rich and vibrant experience with myriad aspects of our shared history. Join us next year at the Dixie Conference Center in St. George, Utah, from September 12-15 to explore: "Southern Utah's Desert Outpost: Making Peace with the Past, Pursuing Peace in the Present." Until we meet again!