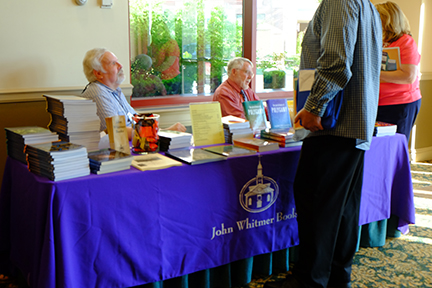 The 52nd Annual Mormon History Association Conference was held June 1-4, 2017 at historic St. Charles, Missouri.
The John Whitmer Historical Association has long been a friendly sister organization to MHA. September's JWHA Conference in Nauvoo was advertised in the published MHA program. Many of the presenters were JWHA members and it was fun to see so many familiar faces and meet new friends.
The John Whitmer Historical Association also sponsored a table where JWHA board member Jill Brim, her husband, Greg, and Reed Russell sold books and invited and encouraged people to become involved with JWHA. A number of people showed great interest, especially in this year's conference to be held in Nauvoo, Illinois. JWHA plans to attend the 2018 MHA Conference in Boise, Idaho. See you there!