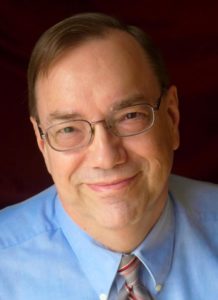 After a career most historians could only dream of, Ron Romig has retired as the director of the Kirtland Temple Historic Site.  As he was training me (Seth Bryant) as the incoming director, he would often introduce me to others by saying, "Now the Temple will have a trained historian."
It's hard to tell when Ron is joking, which is part of his humor. The real joke is that, while I have some bona fides on paper, I'd give anything to sign up for Ron's "unprofessional" training.
I think the School of Romig involves decades in an archive of Restoration history that even the Mormons lust after.  In that archive, I'd need to learn the art of acquiring, preserving, and cataloguing—and help literally countless patrons with their research questions.  I suspect that I'd have to spend years and years running down rabbit holes and chasing after wild geese, until I had forgotten more about Restoration history than even good Mormon historians would ever know.  Add to this that I'd need to become a cartographer, and intimately know the details of every structure in every map I drew.  I'd also need to research and write just a couple books worthy of their awards, and contribute to countless other books.  And then there's the research for all the journal articles I'd need to write.  Finally, I'd need to be outstanding enough at all of the above that other historians in professional organizations such as MHA and JWHA would ask me to serve as their president.
So yes, Kirtland Temple has me, and I'm excited to be here—but we just said goodbye to a director who is one of the top historians in his field.  Thank God Ron's serving on the new Church History team for Community of Christ.  Along with Barbara Walden and David Howlett, I'm excited to see what our three new Church Historians produce, continuing a long line from John Whitmer to Mark Scherer.  Without worrying about the electricity bill of the Visitor Center (and countless other things), I'm looking forward to see what a retired Ron Romig comes up with as an "unprofessional" historian.
---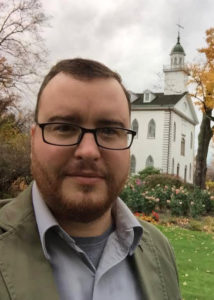 Seth Bryant is the new historic site director for the Kirtland Temple.
Before accepting this position, he worked for Community of Christ in Utah, planting and supporting congregations as a seventy.  Previous to working for the church, Seth was a US Navy Chaplain assigned to 3rd Battalion, 7th Regiment, 1st Marine Division (infantry).
He served in the Sangin River Valley in Afghanistan with the Marines. Antebellum Afghaniā, Seth was doing doctoral studies in religion, with an emphasis on American religious history overall and the Restoration in particular at Vanderbilt University. Someday he might finish that PhD. He also has a Master's degree in religion from the University of Florida.
His wife Jenn is a horticulturist (she's thrilled to be living in Lake County, Ohio, which has more greenhouses than anywhere else in the USA).  Seth and Jenn both were raised in Utah, and are converts to Community of Christ.  They have three children: Lincoln, Bekah, and Danny.