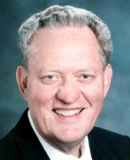 Norman Bernauer (1926–2017)
Norman Bernauer passed away peacefully in Kansas City on January 11, 2017, at the age of 90.
He served as the JWHA executive secretary/treasurer from 2001 to 2003. Norman served in the US Army during World War II. Following graduation from the University of Wisconsin, he worked as a DJ at a small radio station in Madison and subsequently as a television producer/director for the Ford Foundation in Ames, Iowa, and WDAF-TV in Kansas City, Missouri.
Norman was an active priesthood member in Community of Christ. He was married to Community of Christ archival assistant Barbara Hands Bernauer for more than 63 years. Barbara is a former president of JWHA.