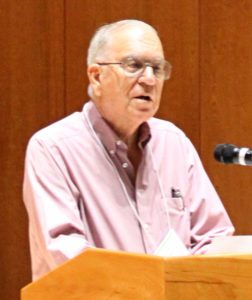 Lewis M. Weigand, age 75, Retired Col. USAF, passed away September 20, 2016.
He was born in Patoka, Ill., on May 21, 1941, to the late Allie and Maesel (Bonham) Weigand.
In addition to his parents he was preceded in death by his brother, Larry Weigand; and sister, Sandra McHaley.
Lewis is survived by his wife, Gaye Weigand; children, Lou Wright (Douglas), Michele Garris, Victoria Wilson (Joseph), Callie Griffiths; brother, Jimmy Lee Weigand (Janice); 8 grandchildren, 7 great grandchildren, 1 great great grandchild; nieces, nephews and a host of other family and friends.
Lew was a longstanding and dedicated member of JWHA and served as Treasurer for many years. His many and varied contributions were humbly offered, and his gentle presence will be deeply missed.